Friends of the Diverse City Fund,
It has been four short months since we gathered at Busboys & Poets to celebrate our first 23 grantees, and already we're writing about our next round of grants: our Grantmaking Team will award another $45,000 in our second-ever grant cycle, applications accepted until April 12. Only two days left to apply! Help us spread the word.That's the biggest news, but we have a few more updates:
$100k & 100+ Conversations
Did you know the Fund raised $100,000 in 14 months? Check our blog for more updates!On the Menu: Funding for Changemakers of Color
DC Fund donors and volunteers held dinners for the fund in February and March, most recently at the home of Andy and Marjan Shallal. Both events combined raised over $5,000 for our future (3rd) grantmaking round. If you're interested in checking out our Dinner-Party-in-a-Box, write to our Fundraising Team.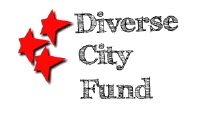 New Projects & Ways to Plug-In
In addition to reflecting on our first grant round and continuing to host fundraisers, we've also been busy with a new grantee resource project, the Allies Circle, that we're hoping to tell you more about in the coming months. Or perhaps you have a passion for getting out underlooked stories about DC's changemakers of color? The Communications Supergroup may be for you. Write to info@diversecityfund.org.
New Instigators!
Our all-volunteer Board of Instigators recently welcomed Jessica Solomon and Jess Champagne to the fold, and bid fond West Coast farewells to David Krakow and Burke Stansbury, who remains an active organizer and volunteer. We're excited about adding their talents and insights to our instigating crew.
Invite Us to Speak
We've spoken about our unique, bottom-up perspective on grassroots philanthropy, donor accountability and social change in the District at several conferences and events hosted by the Community Foundation, the Funding Exchange, Resource Generation, Public Allies and Tikkun Leil Shabbat, to name a few. Get in touch if you think we might be a good fit for your group.
Spread the Word
We held a successful info session for grantees last week and have been busily posting up flyers on community bulletin boards. Bread for the City is even hosting a how-to-apply session at their SE center. Help us get the word out even further by adding us on Facebook and Twitter! Already did? Invite your friends to LIKE and FOLLOW!
Looking forward, and wishing you a terrific Spring,
Sylvia, Jessica, Jess, Dominic, Cathy, Brigette, Andrew and Ayize
DC Fund Board of Instigators
PS: Keep up with the Fund by following us on Facebook or Twitter or by going to diversecityfund.org and signing up for updates.