From theFightBack.org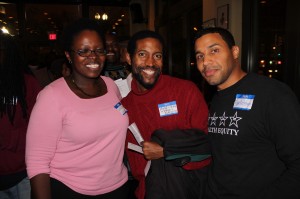 Last week, the newly-created Diverse City Fund awarded $45,000 in grants, ranging from $1,000 to $2,500, to twenty-three grassroots organizations working in D.C.'s communities of color. The grant recipients focus on "housing, media, sexuality and gender equality, urban gardens, and more," according to a press release from the "DC Fund."
"We really wanted to find a way to support organizations that were off the radar screen for most foundations," Brigette Rouson, a founding member of DC Fund's "Board of Instigators," told TheFightBack last week at the organization's inaugural celebration at Busboys and Poets. We want to "make sure that people of color continue to be residents of this city and get the resources that they need and deserve," said Rousson.
LISTEN TO VOICES FROM THE DC FUND CELEBRATION: Diverse+City+Fund+2011-11-22.mp3
On the media front, grantees included Empower DC's Grassroots Media Project, as well as You-Nique Services, which is based east of the Anacostia River, in Ward 8, where there is significant poverty, but little press coverage. "We get live, raw footage in the hood from people that don't get media coverage unless they have the yellow tape and the chalked-in body," Judy Hawkins of You-Nique Services told TheFightBack. The lack of press coverage is "just a fact of where we live at," said Duane Jones, also with You-Nique Services. Jones sees his media work as a way to "help people exercise their freedom of speech."
At least two of the grants will go toward (non-Walmart) efforts to bring fresh produce to areas of the city lacking them. "There's a direct correlation between the types of foods that you can buy at the supermarket and your state of health," said Stephanie Rones, executive director of Premiere Community Development Corporation, which operates in the Edgewood community in Ward 5, where she's working to bring a farmers' market. "We have to educate people because 90 percent of the stuff you buy at the supermarket is not good for you," said Rones, who sees this as a "survival issue."
Also on the food front, the grant from the DC Fund will allow Common Good City Farm to provide local youth with stipends to build a community garden at the Kelly Miller Apartment Complex. "A lot of times [kids] don't have a choice but to eat unhealthy food," said Petula George, the organization's executive director. "The consequences [resulting from a lack of fresh produce in a community] are very visible: obesity, diabetes, poor performance in school," said George.
Maybe unique to the DC Fund, the all-volunteer nine member board ("of instigators") runs the organization and fundraises, but doesn't determine where the money goes. A separate ten-person grantmaking team, consisting of "social change-makers of color," determines which groups receive funding. The grantmaking team is comprised of people "who live, work and have activist street cred in D.C.," said Rousson.
This set up resulted in an eclectic mix of grassroots organizations receiving funding in the initial round of grantmaking, including Tyunin's Breakthrough, which is scheduled to move into its own space Dec. 1. The group works with "young women that feel hopeless, feel like their dreams and everything must be put to the side because they're facing poverty [as] young single mother[s] with low self-esteem," said founder and CEO DeVonna Petree.
Also among this year's recipients was Stand Up! for Democracy in DC Coalition/Free DC. Unlike the capital city of every other western democracy, District residents are disenfranchised. "It's an international disgrace," executive director Anise Jenkins said of D.C.'s lack of statehood. "We want D.C. residents to get mad and demand what we deserve. We're going to get statehood and it won't be very long."
Related links:
DiverseCityFund.org